A reader (and close friend) who is getting married asked for a little wedding inspiration. Congratulations Heather! I hope you enjoy: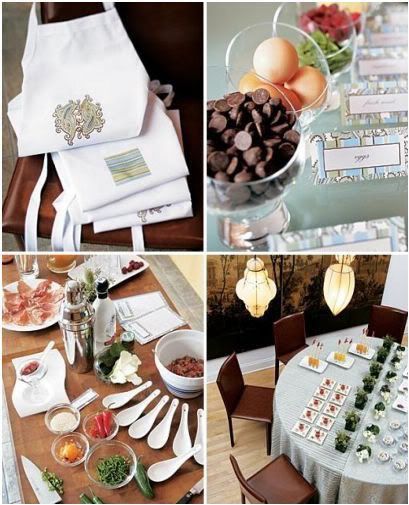 Most of these images are either from
Snippet and Ink
,
The Bride's Cafe
or
style me pretty
, which are three blogs I highly recommend checking out.
Here are some of my favorite wedding inspiration boards from Snippet and Ink, with an idea of what I would include attached to each one:
For a sophisticated beach wedding:
The menu would obviously contain seafood of all sorts. I would offer beer and wine only and keep the bottles cold in tin basins filled with ice. For my centerpieces I would put white coral and flowers in large glass apothecary jars.
For an exotic wedding:
I would have a Mediterranean menu with lots of fresh herbs and flowers. Instead of a guest book, I would have a wish jar where guests can write their best wishes on little slips of paper and drop it in a beautiful glass jar.
For a retro-inspired wedding:
I would wear a retro veil, red shoes, and exit the ceremony in a red 1955 Chevrolet. :)
And instead of a wedding cake, I would have a candy bar like this one:
For a fresh Spring wedding:
I would include fresh planted herbs at each table setting that guests could take home as wedding favors. Instead of a wedding cake, I would have homemade pies and pastries made by loved ones and friends.
For an early Fall wedding or a late Summer wedding:
I would hold this wedding in the late afternoon so that it could carry on into the night. For this wedding it would be all about punchy bright colors and patterns. Instead of a wedding cake, I would have multiple vintage cake stands displaying pies and cobblers of all sorts.
For an enchanting Winter Wedding:
"A perfect pear" would be my theme. If I had the reception indoors, I would make sure there
were fireplaces to cozy around and lots of pillows. If I had the wedding outdoors, (someplace that doesn't get incredibly cold in Winter) I would have a number of outside fire places, and an outdoor lounge with blankets embroidered with our initials and wedding date on them for guests to take home as favors. And of course, lots and lots of candles.
For a Summer evening Wedding:
I would include unfussy fresh cut flowers, fresh juices, mimosas, a basket of flip flops for guests to change into, and firefly nets for the kids. (and the kids at heart)
For a serene Wedding appropriate for any season:
I would do a wedding brunch. Chocolate chip pancakes, salmon and cream cheese bagels, fruit tarts, salads with raspberry vinaigrette, walnuts, and apples, lemonade, crepes, and lots of fresh squeezed juices and fruit.